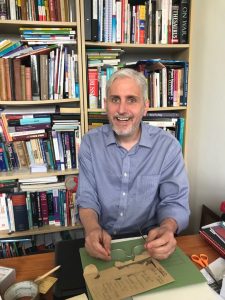 We are passionate about helping our students build confidence and grow their abilities in maths and physics. Our approach is tailored to each individual learner.
Ian's Teaching Experience
"I started life as a research scientist in industrial R&D before moving into communication technologies (ultimately helping to develop communication systems for Lucent Technologies). I have been a full time private maths tutor for over 10 years and previously a part-time Engineering Mathematics lecturer (whilst also working as a maths and science tutor). Teaching only part-time meant not spending as much time with my students as I would have wanted. This and my background in learning and communication technology seeded my interest in online learning – particularly developing online learning platforms.
"I designed and developed the first international online classroom for the British International Schools group, 'The Global Campus'. I'm author of the popular instructional text books for teachers 'Moodle Course Conversion' and 'Moodle Math', author of 'Moodle Developer`s Guide' for online learning platform developers, as well as being the peer reviewer of several text books and video courses in the teaching and learning arena. I spent over 5 years travelling across the UK training primary and secondary school teachers, and also FE and HE lecturers on how to provide effective online learning.
"More generally, I am passionate about the psychology of learning and how we can help others to learn and understand – particularly, of course, learning and understanding mathematics and physics. I don't believe that there's a maths or physics concept beyond anyone's understanding: I think it's purely a question of confidence. My passion is helping people gain that confidence."
Ian's Tutoring Approach
"I offer a free initial taster session to allow us to get to know one another and to work through the issues with your studies you feel you might be having. We can then plan out lessons together or simply concentrate on those aspects that you feel most unhappy with. If you don't understand something the first time around then I will try another way. There is always more than one way to explain a topic – a fact that a lot of teachers and tutors seem, sadly, to neglect. I try to make flexibility the key to my approach. My background in learning technology means I am fully conversant with the latest developments in teaching techniques and working with the visually impaired and print impaired means you must be crisp and lucid in your explanations."
Please do not hesitate to 
contact Ian
 if you would like to talk more about how he can help you, your children, or someone you know achieve success in mathematics or physics.